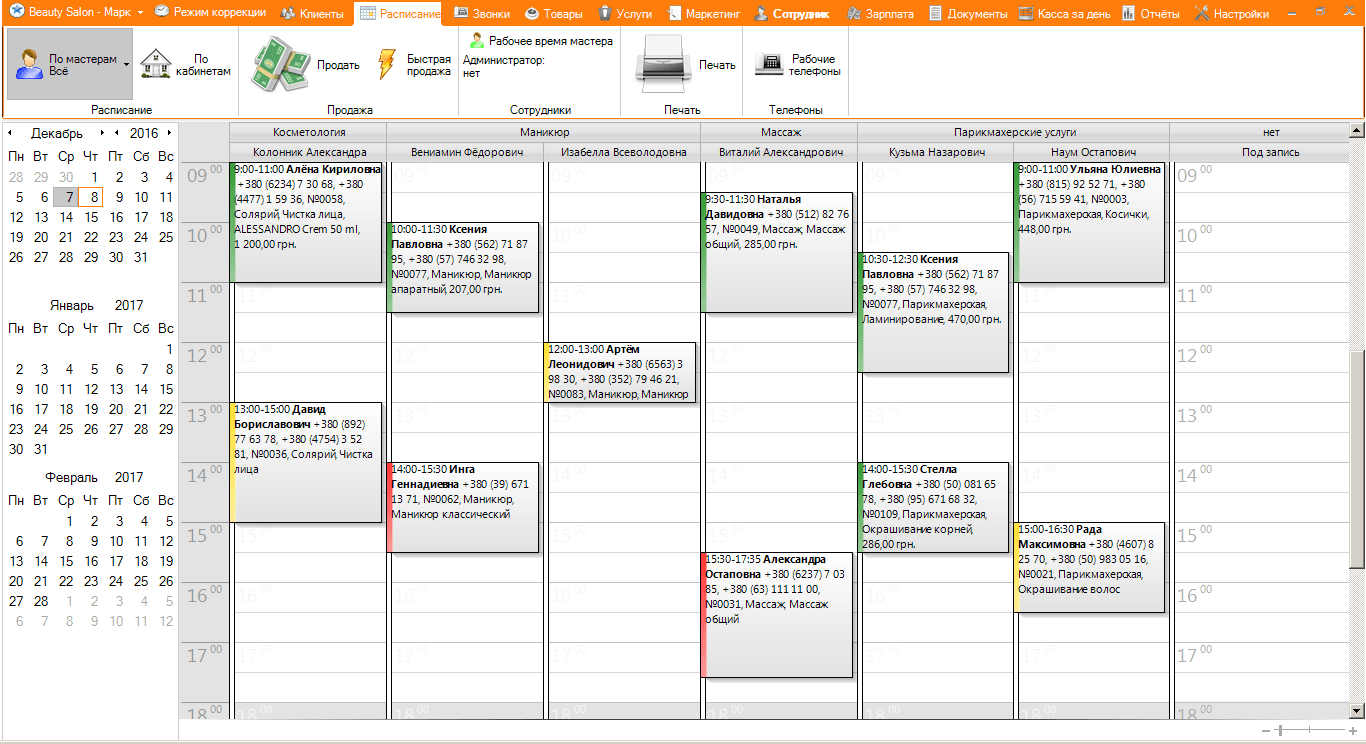 Uzyskaj dostęp do nowych funkcji Beauty Pro.
W nowej wersji Beauty Pro pojawiły się funkcje, o które prosili nasi klienci. Zaktualizuj Beauty Pro teraz i uzyskaj dostęp do nowych, przydatnych funkcji na życzenie użytkowników.

Dodatkowe funkcje
W tej wersji są nowe funkcje, na które wszyscy cierpliwie czekali.
Historię aktualizacji
w porządku chronologicznym
03.01.2018
.
20.11.2017
.
19.12.2017
.
18.11.2017
.
03.01.2018
.
20.11.2017
.
06.11.2017
.
31.10.2017
.
21.10.2017
.
30.09.2017
.
29.09.2017
.
26.09.2017
.
18.08.2017
.
27.07.2017
.
11.07.2017
.
04.11.2016
Program converted to new design. New design is simplier, more contrast and more modern.
16.09.2016
New version of client record site module. Now personal account is available for client - client can see his deposit/bonus sum, visits history and planned appointments. Planned appointments can be cancelled.
09.08.2016
Launched a new version of clients online records module. Superior design, easy installation on site, the opportunity to confirm the recording via SMS, as well as records for group lessons for fitness clubs.
25.07.2016
Prices for services now can be set in additional currency.
06.05.2016
Automatically calculate product selling price from supply price
22.04.2016
Possibility to take payment from client for some materials used in services.
28.02.2016
Planned and fact employee work time separated. Fact work time is calculated by program enter-exit, read employee card (by program, by turnstile). Salary per day and per hours can be calculated based on plan or fact work time.
05.02.2016
New report: Key Financial Indicators (profitability, breakeven point, income per m²)
06.09.2015
Now program is common for all languages, language can be changed directly from program.
06.09.2015
Campaign "Bring your friend": your clients now can receive a bonus for brought friends. And even when their friends will bring theirs' own friends!
16.06.2015
Possibility to print report for insurance companies on clients visited for some period of time. Report template can be created from MS Word document.
01.04.2015
Discounts and bonuses now can be simultaneously accrued for client by discount card.
04.03.2015
Possibility to create client check with your own design (based on MS Word or MS Excel design)
27.02.2015
Masters program mode (edit services and materials) now optimized for touch screen displays
23.02.2015
After supply act finished, sale prices can be immediately changed for supplied products
22.02.2015
Report "Primary/active clients ratio by months"
19.02.2015
You can set clients' required fields. Without that data sale to client is impossible
18.02.2015
Possibility to attach friends/colleguas to clients
09.01.2015
Documents section - possibility to darag and drop documents from Windows Explorer to program and vice versa.
17.12.2014
Automatic program update on all computers in salon (club) after updating on one computer.
27.11.2014
For several locations - you can manage general clients' list with each client have common deposit and possibility to show client's visits to all locations (synchronization)
11.11.2014
Program now supports sending sms from more than 100 sms services from 7 countries! Select sms sending service you like!
20.10.2014
In cashdesk in check list you can open client information
15.10.2014
While entering new client program find similar existing clients by name, surname, phone, e-mail or birthday and show a list of best match.
01.10.2014
Expences can be attached to companies, recurrent payments can be configured, creating bills for these expenses and control money flows to companies.
01.10.2014
Possibility to set up rules for assigning categories for clients and automatic assigning such categories (for example, client who made N visits and bought services and products for at least M sum will automatically receive status "Gold")
15.08.2014
New big report about clients retention
24.07.2014
Possibility to set that card can be activated only from month start (from first day of month)
23.07.2014
Possibility to set reason while sale with discount or free of charge
27.06.2014
New report "Consignment products lefts"
28.05.2014
Now you can write off product sets (receipts)
26.05.2014
While removing card, program allows to block all active cards of given type
10.05.2014
Sales in cashdesk now is shown by checks
09.05.2014
Now you can edit supply, transfer acts and other product documents even after products from these acts were used.
01.05.2014
In reports with grouping number of rows inside is written near each group
27.04.2014
Possibility to set discount on client's birthday
21.03.2014
Possibility to create new certificate on recording client visit
21.03.2014
Locating certificates in folders
13.03.2014
Correction mode: possibility to set closed period< in which correction mode is not working
06.03.2014
In full card you can set discount not only for separate product/service/card, but also for folders with products/services/cards
25.02.2014
Products revision on given date
17.02.2014
Possibility to set products price by formula "supply cost + profit percent"
13.02.2014
Check dialog: you can always select master which will receive bonus for product recommendation
11.02.2014
Program for masters (trainers) - added on screen keyboard
05.02.2014
Information tab on Clients page: history of client's last sales (last 3 months) is shown
31.01.2014
Cashier workplace (in Deluxe version)
29.01.2014
Products supply dialog - you can change destination warehouse even after all products added
22.01.2014
Possibility to set card price in additional currency
23.12.2013
If employee forgot his password, program can send him new password in SMS on his mobile phone (shown in employee's information), if sending SMS is configured or on his e-mail, if sending e-mail is configured.
22.12.2013
Possibility to pause or cancel SMS feeds
22.12.2013
All SMS messages for clients (birthday greetings, visit reminders, card/certificate end reminders) are sent only in comfortable for clients time 11:00 - 19:00.
18.12.2013
Possibility to set typical cancel reasons and select reason on check cancel.
11.11.2013
For full card for each service you can set fixed virtual price which will be used for calculating salary
30.10.2013
Adding money from owner
17.10.2013
Possibility to repeat check payment after cancelling check without need to reinput all check items
14.10.2013
New action types: fixed discount sum and "all in one price"
11.10.2013
In cashdesk operations list used account (or accounts with sums for mixed payment) is shown and helps to distinguish operations by accounts
11.10.2013
Program checks computer time on startup and propose to correct if needed
03.10.2013
In section Cashdesk search by product/service name, client, administrator, master, price is available on day operations.
26.09.2013
Now you can locate program database on Linux computers, including most host providers in Internet without any additional MySQL configuration. You can easily transfer your database outside your office.
16.09.2013
Several persons now can be financially accountable for some warehouse
13.09.2013
Reports "Clients' list" and "Clients' sales" now contains columns and filters on age, sex, category, manger, company and source address. Such columns and filters allows to analyze client base and sales by certain clients groups.
12.09.2013
Total report for all sent e-mails for clients
11.09.2013
Departments now can be set for services/products. Expences for salary and other expences now can be distributed between departments.
06.09.2013
Sending reports to e-mail now is done at evening at day end when administrator exits program, but not next day morning.
05.09.2013
Day salary: possibilty to calculate only half of salary if employee worked only half of the day,
24.08.2013
You can print employee cards by yourself using special printer. You can create several card designs.
22.08.2013
In schedule you can divide time not only by half-hour intervals, but also by 5/15-minutes intervals. Schedule can be streched to see short records.
12.08.2013
Possibility to calculate bonuses for cards, certificates and group visits (in addition to products and services). Possibity to set, for which products, services, groups and cards bonuses will be calculated and for which - not.
26.07.2013
Report "Clients' sales" shows sale sums for each client for given period (both total and separately products, services, cards, etc.)
19.07.2013
In cashdesk you can see not only total sums for sold services, products and cards, but also with details by categories.
16.07.2013
Accumulative salary schema now can be calculated not only from client's payed sum, but also from price sum (ignore discount sum). Services fact or planed materials cost also can be subtracted.
15.07.2013
For each client you can create several questionnaires (for new client, medical card etc.). For each questionnaire document can be attached with data from this questionnaire.
09.07.2013
Possibility to print documents from Documents page
23.06.2013
Possibility to create services sets for quick selection of treatment process.
21.06.2013
Client visit record - adding services or products now a lot easier and quicker.
14.06.2013
Client history page now contains information about cancelled visits.
12.06.2013
While creating visit on master (trainer, doctor) non-working time, program warn that employee is not working and helps to change schedule and inform employee about changes.
04.06.2013
Month schedule by cabinets allows to connect masters (trainers, doctors) and assistants to rooms.
24.05.2013
Clients' accumulated discount - possibility to exclude some products or services from discount.
20.05.2013
Possibility to make products transfer, waste or return base on products supply.
18.05.2013
For separate employees you can set, that administrator see employee calculated salary and can pay to him (Cashdesk page, button Pay salary, without access to Salary page)
13.05.2013
Products and services sales to employees: possibility to set, if salary, administrator bonus, recommendation and turnover bonuses will be calculated while saling to employee.
09.04.2013
In month schedule you can see not only work duration, but also work start and finish for each employee for each day.
09.04.2013
In month schedule you can set custom employee absent reasons (plus to standard: miss, ilness, vacation).
02.04.2013
Possibility to create notifies with link to client or employee (automatic transfer to client or employee after click on notify) by yourself.
01.04.2013
Now Word and Excel contracts and templates is printing faster, do not starting Word (or Excel). Moreover, they can even be not installed on your computer.
31.03.2013
You can arrange files in section Documents using keyboard combinations Ctrl+X (cut), Ctrl+C (copy) and Ctrl+V (paste).
31.03.2013
Section Documents - it becomes easier to work with documents: edit mode was removed, possibilities to edit and rename documents was added. Documents can be arranged in folders using mouse. For each document time and author of last change is shown.
11.03.2013
Possibility to set facilities close time after 24:00. So employee's work time, client visits and sales can be transfered to start of next day.
06.03.2013
Warehouse options: you can set possible options of products' sales: by volume (gr, ml), by portions, by packing.
04.03.2013
Page "Birthdays": except birthday date, number of years is shown for each client.
02.03.2013
Keyboard layout is shown while entering password.
21.02.2013
In check window (also in quick sale window) after you set action or discount to one check item, in one click you can set it to all other items.
16.02.2013
There is possibility in schedule to select administrators, whom will receive sale bonus for products and services. Also there is possibility to select several administrators working simultaniously (bonus will be divided between them).
04.02.2013
In schedule in new visit record if master (doctor) not selected, client's master (doctor) automatically set.
01.02.2013
Possibility to mark client don't want to receive E-mails.
01.02.2013
Schedule: calendar now is bigger and put to the left for more convenient administrator work.
29.01.2013
Companies, to which clients belongs, insurance companies and discount services from now have their own accounts, where money can be transfered and distributed between clients or used for sales.
26.01.2013
Possibility to use discount by card (abonement) or use certificate only after scanning (with barcode scanner) card or certificate (Settings -> General settings -> Cards).
23.01.2013
Revision is automatically saved during the work, so you always can continue from point you stopped last time.
22.01.2013
Possibility to filter (and to print) only products' shortages or surpluses in revision.
14.01.2013
You can write short description about each action. This description from one of such active actions will be printed at the end of client check.
11.01.2013
In case master belongs to several job positions with different prices for services, you can select price for current service.
25.12.2012
Possibility to replace one product by another (for example, if needed to give product from showcase to work).
13.12.2012
Column "Products cost by sale price" added to report "Products lefts".
29.11.2012
Possibility to forbid several services in one cabinet or hall simultaniously.
28.11.2012
Card freeze can be made forehead (start from given date)
16.11.2012
Possibility to limit employees, who can sale specific services or cards.
14.11.2012
New card type - Bonus card. Bonuses are calculated for clients, they can use bonuses for payments.
10.11.2012
Return is shown while receiving money from clients.
02.11.2012
Possibility to automatically assign numbers for clients.
23.10.2012
Accumulation discount can be applied for all customers (in settings) without need to sale accumulation discount card for each customer.
22.10.2012
Now you can make balance not only for full warehouse, but also for several folders in warehouse.
16.10.2012
You can insert full address while editing client or employee. Program will automatically split it into parts: city, street, building, apartment and fill corresponding fields.
05.10.2012
History for laser epilation procedures.
19.12.2017
.
18.11.2017
.
31.10.2017
.
24.10.2017
.
11.10.2017
.
29.09.2017
.
28.09.2017
.
26.09.2017
.
10.08.2017
.
18.07.2017
.
10.07.2017
.
01.11.2016
You can specify, what client information your staff can edit (Ultimate version).
03.09.2016
Correction modes added: only yesterday, current month, open period or any date. Correction mode now can be set separately for each staff category.
09.08.2016
Now program connects to bank terminal for card transactions. When making payments to bank account, window appeared waiting for payment with a card (amount is sent to the terminal), the same for refund. In addition, on Daily Balance tab you can print Z-report, X-report and day report for terminal.
22.07.2016
Personal account appeared in the program - you can view the history of your payments and contracts for the program, the date to which the program will work as well as the account balance. There you can pay for the program for the next year or month with Visa / MasterCard cards - money will be credited to your account and license extended automatically within a few seconds.
22.04.2016
Clients' checks numeration added.
22.04.2016
Product units (kg, g, ml, pcs.) precision for presentation and calculations can be changed.
19.02.2016
Personal warehouse can be created for each master/trainer/doctor. In services calculations you can set that service materials will be taken from master/trainer/doctor warehouse.
23.12.2015
Possibility to send a document generated by program to client's e-mail.
06.09.2015
Cloud server, where you can store your database, not to locate database in your institution, managing server and creating backups. Free for clients with annual subscription!
26.06.2015
Different salary schemas for services salary and administrator bonuses now can be set not only for folders, but for separate services/products
09.06.2015
Possibility to print fiscal information on ordinary check, if no fiscal printer is available (if fiscal printer is not required for your industry).
05.03.2015
All employees now can work together with client calls
03.03.2015
You can keep an archive of dismissed employees
24.02.2015
Check window: all services and sales are shown by master. You can change master, who recommended some product.
23.02.2015
Detailed report on employees accumulative salary schema (show both fact and plan values)
22.02.2015
Client questionnaires detailed report
19.02.2015
Accumulate salary schema - possibility to create schema that depends from sold products/services quantity, not from sold sum.
09.01.2015
Pictures can be set for products, services and groups folders
24.12.2014
Program can make automatic database backups now. Backups can be protected by password, without password anyone can't access backuped data. Ready backup files can be automatically stored on other computer in network or cloud storages (Dropbox, Google Drive, Microsoft OneDrive, Apple iCloud, Box.com and 11 more)
12.12.2014
Planning profits and losses by departments
19.11.2014
All our programs now are signed with electronic certificates (company Light Soft). Now you can be sure you received correct pogram from us, not from someone else and program does not contain viruses or other suspicious modules
05.11.2014
Manual salary calculation for services - not only specific sums, but also formulas can be set.
18.10.2014
Report - searching for clients repeats (saved two times in client list) by similar client's information
05.10.2014
Connecting with scales (for weighting materials for services)
01.10.2014
Products supply and products order: products lefts are shown, possibility to show only products with critical quantity
02.09.2014
Reports "Visit dynamics by payments" and "Visit dynamics by visits" visualize key performance indicators either in absolut values or increase for each month (or other period)
06.08.2014
Phone number and zip code validity check (for different countries). More precise mobile phone determination
23.07.2014
New report "Visits dynamic" shows clients and checks count, income and profit in dynamic.
23.07.2014
Possibility to select printer for printing reports and documents
25.06.2014
Clients Page: client search by category or e-mail
27.05.2014
Possibility to change service's used materials before sale
13.05.2014
Several categories can be set for one client
09.05.2014
Warehouse revision now doesn't prevent selling products, supply and other product operations
05.05.2014
In reports in filters you can select several values at once (Deluxe version)
01.05.2014
New report "Lost clients" for given period
22.04.2014
You can set bank commision for using bank account. Commision will be shown in expences
21.03.2014
Automatic certificate price evaluation on creation
20.03.2014
Possibility to pay salary and cancel payments, awards and fees for removed employee
06.03.2014
Possibility to change font size for printing checks
01.03.2014
Possibility to edit and cancel already done revision
25.02.2014
New report: products lefts on specific date
17.02.2014
Possibility to change price for all products/services/groups/cards at some percent
11.02.2014
Possibility to remove cancelled sales under special right
05.02.2014
Page "Clients", for "Client's information" section you can define font size to help administrators see client's information from big distance.
02.02.2014
Director/owner can see all notifications (in history), not only his own
31.01.2014
Possility to print check for operations "Put money on deposit" and "Get money from deposit"
29.01.2014
Products order dialog and products write off dialog - produt sum shown for each product plus total sum
24.12.2013
At last! Now program allows to send SMS through different SMS send services - you can choose it by yourself. For current moment only few services available, in next months their quantity will be increased (including your requests)
23.12.2013
Each employee, who can login, can change his own password (even without possibility to edit users, but only for himself).
22.12.2013
SMS delayed delivery (both sms feeds and separate smses) - you can set time when smses should be sent.
18.12.2013
In cashdesk while paying salary, if administrator see employee's salary, he can also open employee's salary report (to show and explain why salary sum is as calculated)
30.11.2013
Possibility to print schedule for day for one or several halls
08.11.2013
Possibility to load product invoices from Excel
30.10.2013
Fixed assets accounting
15.10.2013
Clicking on client (product, service, group) in reports will open client card (product card, service card, group card).
12.10.2013
Possibility to keep a record of the debt to the supplier in additional currencies (dollar, euro etc.)
11.10.2013
Possibility to enter fact values in stock balance not only in gr/ml, but also in packages for weight products
10.10.2013
Marketing->Actions - possibility to split to organize actions by categories and search actions.
02.10.2013
Client companies and suppliers - possibility to set several contacts and more detail requisites
16.09.2013
Report for services and visits lefts on cards and abonements
16.09.2013
For each client you can set "own" master/trainer. Master/trainer can earn salary for "own" clients using other formula.
12.09.2013
In report "Clients' sales" column and filter "Is new client" added. So now this report can be used for analysing visits and sales for new clients.
12.09.2013
Total report for all sent SMSes
07.09.2013
Page Clients: searching client by card number or cabinet number now easier and clearer
05.09.2013
Report "Planned visits" - information about all future and cancelled clients' visits.
03.09.2013
Now supporting not only laser epilation devices, but also photo epilation devices
23.08.2013
Report on all products operations for given period.
13.08.2013
Possibility to calculate salary for services according to service price by card.
11.08.2013
You can print client cards by yourself using special printer. Cards design is fully customizable.
26.07.2013
Page Clients, Photos: more quick and convenient adding and editing photos, possibility to load several photos at once an dragging photos from Windows Explorer.
16.07.2013
You can set and read not only 13-symbol barcodes (EAN-13), but also any others for products (and services).
16.07.2013
Possibility to save all changes of client's questionnaires in chronological order (when history of changing information about client is important)
13.07.2013
In client's questionary you can create questions in form of tables (for extended questions, possibly with dates).
07.07.2013
Possibility to print visits schedule for client.
21.06.2013
Printing reports on black/white printer - program corrects color contrast for better reading.
19.06.2013
Possibility to send e-mail with several reports every day end.
14.06.2013
Report "User action history" now contains more detailed information about changing client visits. Separate report "Cancelled visits" contains information about all cancelled visits.
10.06.2013
Possibility to turn off automatic notifies about clints' birthdays, cards' and certificates' ends, products' critical quantity.
29.05.2013
You can create one or several receptions in program. For each reception admininistrators and cashdesk assigned. Administrators of this reception can work only with this cashdesk and see only operations with this reception.
24.05.2013
In templates you can set several phone, e-mail and comments columns while loading clients or employees.
19.05.2013
Dialog Invoices: possibility to view list of invoices for any period, filter invoices by type, number or supplier.
17.05.2013
Check rounding is saved and shown in reports separately from products and services.
16.04.2013
In accumulative discount you can separately set, what is used for calculating accumulated sum (products, services, cards) and what items discount is applied.
09.04.2013
While cancelling the employee in schedule, administrator can also set absense reason.
03.04.2013
New possibility to send SMS to employees: both separate e-mails and sms feeds. Usefull for congratulations and informing employees.
01.04.2013
Section Documents: possibility to create document templates for clients and employees (contracts, acknowledgements etc.). Program will automatically fill name, passport requisites and other data into document.
01.04.2013
Program become compatible with new file formats MS Office Word/Excel (docx/xlsx) and also Open Office (odt/ods), Now you can upload templates and documents in such formats.
31.03.2013
You can add one or several files or even folders to Documents section, simply dragging them from Windows Explorer by mouse.
30.03.2013
You can drag products, services, groups and cards to different folders using mouse.
11.03.2013
If day is set as non-working in common settings, employees will not be set in schedule for this day and salary for that day will not be calculated.
04.03.2013
Report on clients with birthdays in given month.
04.03.2013
Possibility to set client's relatives (spouse, children etc.) + visual representation of closiest relatives.
22.02.2013
You can set discounts for buying cards in full card.
21.02.2013
Possibility to calculate administrators' sale bonus (and masters' recommendation bonus) using accumulative and other complex salary formulas.
04.02.2013
You can add notify not only to specific person, but to group also (like Administrators).
04.02.2013
You can go to client edit dialog from client visit form now.
01.02.2013
Program for masters/doctors: view mode is available for one-day schedule with all masters/doctors or cabinets working today.
31.01.2013
While editing planned client visit in schedule, while editing date and time, trainer (master) schedule is shown to the right.
29.01.2013
Managing information about clients' insurance policies tickets and discount companies' coupons.
24.01.2013
You can set different service price depending from service time.
22.01.2013
If program controls staff enter and exit, but person has not entered yet, it's time in schedule is lighted with red.
22.01.2013
Difference sum by products sale price is automatically calculated in revision (and revision history).
12.01.2013
Option to notify about clients' birthdays can be turned off in General settings.
25.12.2012
Salary for services for worker can be set for all services at once.
21.12.2012
Order of entering information about client potential visit was changed for quicker data input. Client can be selected in same window, selecting service can be skipped or selected later.
02.12.2012
Possibility to sale products by portions (not whole packages and not by milliliters).
29.11.2012
In Staff section visually shown staff inside, come in time (and gone out time for staff already gone) - if controlling staff by cards.
17.11.2012
SMS and E-mail feeds - you can sort clients by type (active, potential,..) and by categories.
15.11.2012
Requisites for product operations' acts (supply, transfer, waste, return acts) can be changed even if products from act already used. Such requisites are: act date and number, supplier and if products are on consignment.
13.11.2012
Each client has catalog of photos and pictures, where photos and other images can be stored.
09.11.2012
Possibility to load sales history from Excel (especially usefull while starting working with program).
25.10.2012
Possibility to print catalogue of products (of no possibility to stitch barcode to product itself, like coffee or cocktail) or services.
23.10.2012
In accumulation discount card you can set categories (products, services, groups, cards, certificates), for which discount is applied.
19.10.2012
"Quick sale" in Schedule will help you to sale products and services more convenient and quicker.
10.10.2012
Rounding check sum (+ round types: up, down, to nearest)
01.10.2012
Dialog "What's new in new version" is shown after program update (with list of new possibilities and major improvements, registered after October 1, 2012). Also, list of all new features can be seen in "About program" dialog.