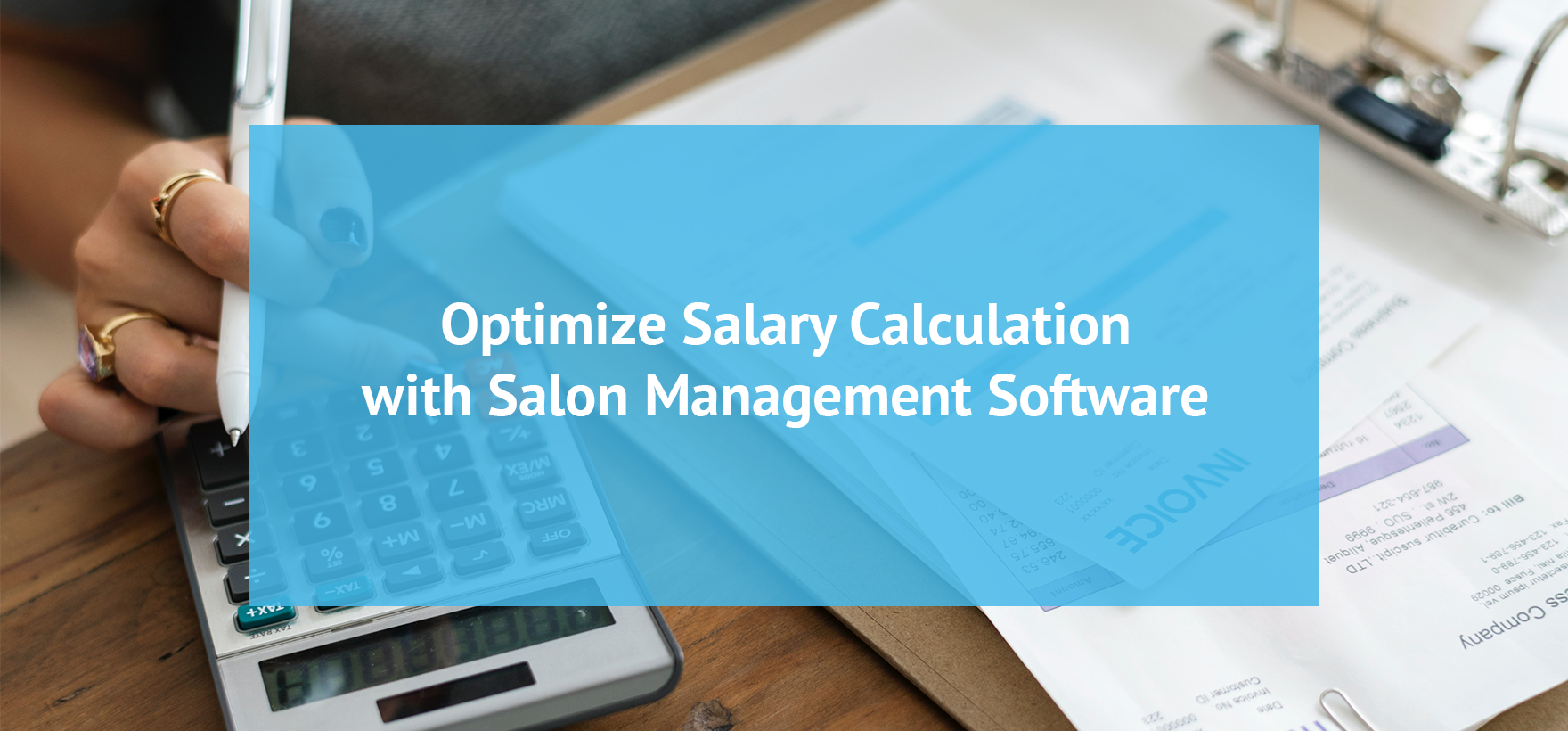 Optimize Salary Calculation with Salon Management Software
Friday October 5th, 2018
2364
Salary calculation is at the top of the list of business tasks that require the most time and precision. It is also easy to make mistakes in calculation, especially when doing it manually. But is there a way to make this task less time-consuming and cut down on errors? Read further to find out if there is an option best suited for your business.
How do you cope with salary calculation? Different working conditions have different payroll conditions as well. Some beauty professionals work on an hourly basis and others get a commission from the services they provide. And you need to track all this information before sitting down to do all calculations and form the payroll.
Do you have a separate table for each employee where you record every service they provided or how many hours per week they've worked? Or is it a single spreadsheet where you count all payroll data at the end of the month?
In any case, it's a true headache to stick it all together to count each salary. Then, run through your calculations at least a couple of times to make sure everything is correct. And yet, you are left with the same two problems at the end of the month:
It takes a lot of time to calculate salary for each employee.

There are always errors in calculations that you have to correct, and this takes even more time.
Accounting books are a thing of the past. Most salon owners use Excel spreadsheets or similar programs. They certainly save you some time, since you can enter formulas and the program will calculate everything automatically. Still, you need to record your employees' work in numbers for the formulas to work. And what about rewards and fines? How do you keep track of those?
There is a better solution. Something, where you don't need to transfer bits of data from one table to another and, most importantly, where you can save your precious time. And it is salon management software.
Excel vs. Salon Management Software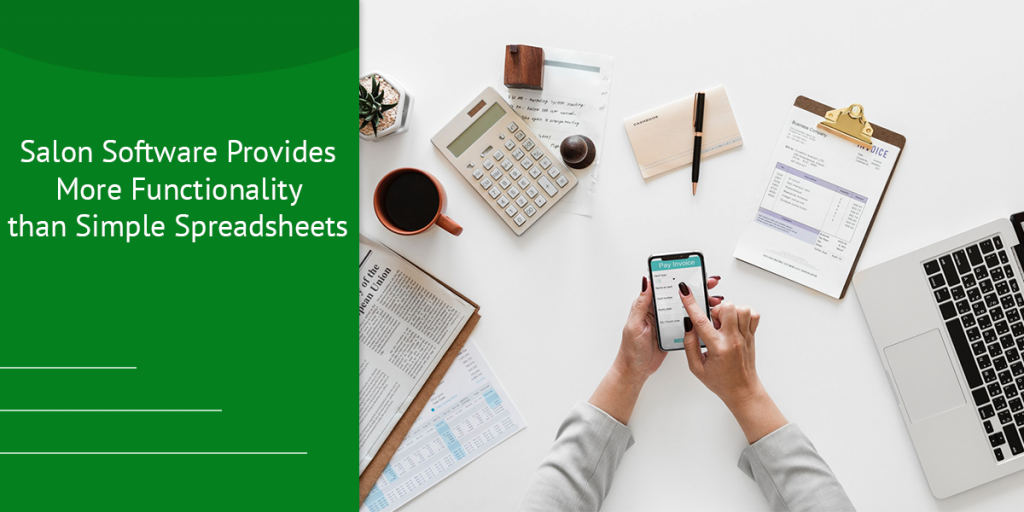 Excel spreadsheets are a safe bet when you don't know which software to use for salary calculation. You can make numerous tables to account for each employee's work days and holidays, payment for each hour of work or service. Although a simple Office program, Excel is still quite beneficial:
It provides a lot of standard and complex math formulas, so you can make calculations within the spreadsheet;
It stores information about the work and salary of each of your employees.
That is as far as it gets, though. You still need to input details on how many customers each employee has service, how much they have earned for each service, account for bonuses and fines, make sure all calculations up to this point are correct and only then, finish calculating the salary itself. It is usually a mess.
Salon software, on the other hand, can provide you with much more functionality, that can improve and optimize the process:
It pulls all information needed for salary calculation from each employee's work schedule;
It saves you time, since there is no need to input or transfer data additionally, before doing the calculations;
It minimizes time spent on calculating down to a couple of clicks;
It minimizes the overall amount of errors since everything is done automatically by the program, from pulling the information about rates, commission, fines, and rewards to the actual calculations.
Think of how much easier your work would be if everything was done by a program and every calculation was done by the computer.
Benefits of Using Beauty Pro for Salary Calculation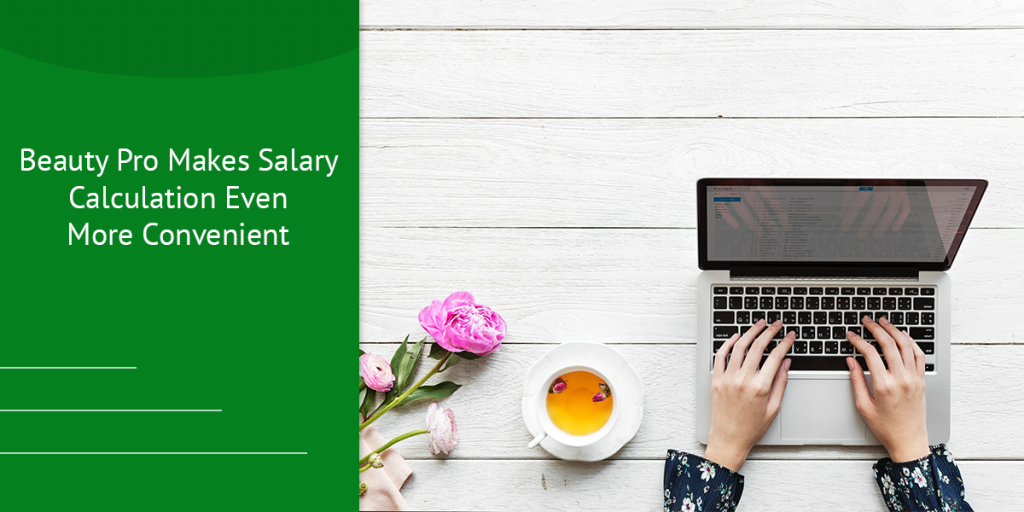 Beauty Pro is a salon management software system that has all the necessary features to automate every process concerned with salary Calculation and make it even more convenient. Scheduling, employee performance, accounting for products, all of this is part of correct accounting of the payroll.
Advanced salary calculation formulas

will help you account for different types of employment. They take into account client discounts, backbar products used, planned net profit form a service, employee's rewards and fines.

You only need to

set up the formulas

for each employee

once

, the system does all the rest.

You are literally

a couple of clicks away

from a list of employees and their salaries.

The software ensures the

least amount of possible errors

since since all calculations done by computer.

You can also

set up bonuses

to encourage product sales and recommendations.

You can

plan sales

and set up bonuses for reaching a target.

The software gives you

detailed reports

on the salary of each employee, such as the services they have provided, their clients, bonuses, and fines.
Beauty Pro is an all-in-one product for managing your salon. It can help you improve all aspects of your business, including client management, staff management, finances, and client retention, among others. You can use more than 150 reports to analyze salon performance and find ways to increase the quality of your services and profits.
Download the free 14-day demo now and start testing how our software can help your business. You will surely see your quality indicators rising even within two weeks.